Friday, July 17 - Sunday, July 19
Camp Erin 2020
Camp Erin is a free overnight camp for kids ages
6 - 17 who have experienced the death of someone close to them.
It is a weekend-long experience held at Camp Wooten State Park, near Pomeroy, WA, filled with fun camp activities, combined with grief education and emotional support.  The camp is facilitated by grief professionals and trained volunteers from the Willow Center.
Camp Erin 2020 is Friday, July 17th – Sunday, July 19th.  Campers are dropped off at 2:00 p.m. on Friday, and parents must arrive onsite at 1:00 pm on Sunday for debriefing with our volunteers.  Parents are then reunited with their kids and everyone participates in the short closing ceremony at 2:30pm. All campers and families leave immediately following the ceremony.
To provide a supportive and caring environment for children and teens affected by the loss of a loved one.
Children grieve in many ways and require physical activity as well as emotional outlets.  Camp Erin provides fun, recreational activities that are designed to help campers deal with their grief and develop coping skills with others who have been through a similar experience. Activities at Camp Erin include: canoeing, archery, swimming, arts & crafts, campfires, and more!
Through a grant from Eluna and generous donations from the community, Camp Erin is FREE to all campers!
Camp Erin is named in memory of Erin Metcalf, who developed liver cancer at the age of 15.
Karen and Jamie Moyer, founders of The Moyer Foundation (now known as Eluna) met Erin during Spring Training in 1998 and developed a special friendship with her and her family.  In June 2000, when Erin died at the age of 17, the Moyers wished to honor Erin's memory. 
Because Erin had such a desire to help other children, the Moyers felt that a grief camp for children would be an appropriate tribute to her with the first Camp Erin being established in 2002.  Over the course of the years, Camp Erin has grown into the largest free bereavement program for children and teens in the U.S. and Canada.
The Moyer Foundation was established in July 2000 by Major League All-Star pitcher Jamie Moyer and his wife, Karen. In 2018, the Foundation changed its name to Eluna.  Eluna's mission is to support children and families impacted by grief or addiction.  For more information visit www.elunanetwork.org.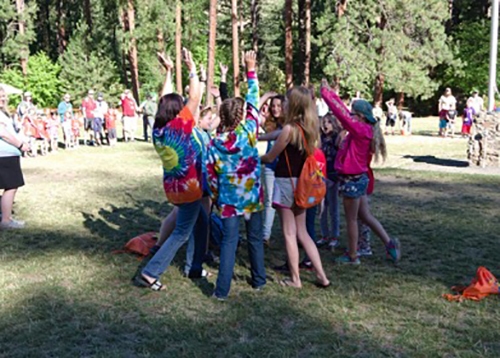 WHAT MAKES CAMP ERIN POSSIBLE?
Camp Erin would not be possible without the generous support of the community and volunteers. 
In 2018 alone, over 3,300 volunteer hours went into the program, countless miles on cars and many discussions. 
The Willow Center is forever grateful to its volunteers and the Lewis and Clark Valley community for making this camp possible each and every year!